Every now and then a story comes along that makes you stand up and say to yourself - what the fuck is this?

So Prof Bailey teaches a popular human sexuality course at Northwestern (this writer's alma mater) and conducts sex toy demonstrations after hours in his home. One such demo involved a naked woman and the use of a contraption he calls the fucksaw. Did he violate any school policies? Is this an appropriate class related demonstration or just a crazy ass prof behaving badly? It does appear that one can learn much from Prof Bailey's classes, and after all students are adults, but I do have a few problems and issues with the fucksaw. This particular experiment using a mechanical work tool is negative from where I sit. Shame on my alma mater. Prof. Bailey be thankful you teach at Northwestern. Your head would be served up on a platter if you taught at any of the UW campuses. Several years ago, the legislature along with UW System whacked a prof for saying that 911 was an inside job, so you know what would happen with you and your fucksaw.
***************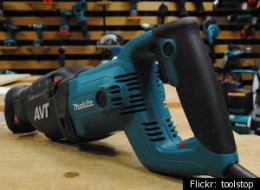 A Northwestern University professor is defending a controversial after-school demonstration, which featured a naked woman "being repeatedly sexually stimulated" by a device he called a "fucksaw" in front of students.
The
Daily Northwestern reported Tuesday
that Prof. John Michael Bailey, who teaches a popular Human Sexuality course at the school, often holds after-class events which include everything from "a question-and-answer session with swingers to a panel of convicted sex offenders."
Last week, the after-class event featured a naked woman being stimulated by a motorized sex toy called a "fucksaw" on stage, the paper reports. The woman was not a student.
The "fucksaw" in question is basically a dildo attached to a reciprocating saw which, when cranked up to full blast, can drive a person to orgasm.
Students were reportedly warned about the explicit nature of the demonstration, and were urged to skip the event if they were worried about being uncomfortable. One school administrator
told the Daily Northwestern
he was surprised to hear of the demonstration, but said it most likely did not violate school policies. But after the "fucksaw" story made
national
news
Wednesday, the university's president spoke out against Bailey's after-class event.
***********

After this story went viral everyone at Northwestern decided to speak out against it. Prof Bailey may be given his walking paper. He may become a millionaire with the fucksaw. Anything is possible in America.